The Belgian National Lottery is relying on GEOCONCEPT geomarketing solutions to develop its retail outlet network
As part of its growth strategy, the Belgian National Lottery has decided to acquire GEOCONCEPT geo-marketing solutions to optimize the siting of its retail outlets and evaluate the performance of its network.
The challenge for sales managers: to diversify the national retail outlet network in line with consumer needs
The equivalent of the Française des Jeux in France, the National Lottery's mission is to organize public lotteries, betting, competitions and games of chance in Belgium in a socially responsible, reliable and safe way. These activities are organized via a dense network of more than 5,300 retail outlets (80% of them independents, 20% on framework contracts) that the company is required to continue to develop in pursuit of the goal set by the Belgian State of one retail outlet for every 1,200 adults while dealing with market constraints (adverse situation for newsagents, diversification into petrol stations and general groceries, etc.).


In 2010 the National Lottery's sales management found that its development strategy was based on incomplete data and tools preventing it from performing its various missions effectively. Indeed, with limited analytical capabilities and no prospecting dimension it is difficult to optimize retail outlet location or objectively evaluate the network's performance.

The National Lottery therefore issued an invitation to tender to acquire an integrated decision support solution, a genuine geographical information system including cartographical analysis tools and up-to-date spatial, economic, socio-demographic and behavioral data to optimize the development of its network.
The National Lottery in a nutshell
Colonial Lottery established 1934
1962, institution becomes the National Lottery
Public limited company since 2002
Almost 420 staff
2012 turnover : 1.258 billion euros
More than 5,300 retail outlets (80% of them independents)
3 types of game : lottery draws, scratch cards and sports betting
GEOCONCEPT's customized response: a comprehensive and personalized cartographical optimization solution
GEOCONCEPT wins the invitation to tender in 2011 with an upgradable cartographic optimization system comprising the following solutions:
Geoconcept Sales & Marketing, a dedicated geo-marketing solution with a dynamic scenario creation and automatic report generation capability
Geoconcept Enterprise Server, the system's administration console
Geoconcept Universal Geocoder, a geocoding solution
Modeler for Geoconcept, a spatial datamining and predictive analysis module
Street level cartographic data and neighborhood level census data.
« Apart from the quality of the relationship with GEOCONCEPT and their perfect understanding of our market constraints (GEOCONCEPT is also the solution provider for Française des Jeux), we were particularly attracted by the upgradability of the proposed solution. Indeed, the system's kernel supports the addition of new modules as we become proficient in using geo-marketing »
Arnaud Hermesse, Director Sales of the National Lottery.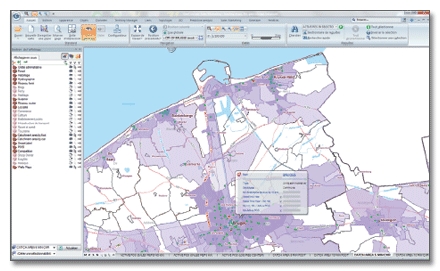 Operational in 2012, the Geoconcept solution is made available to the head office sales team, regional office heads (the company has 8 regional offices in addition to the head office in Brussels), their deputies and the sales personnel attached to these offices. A lighter version with simplified interface is also developed at the end of 2012 to enable occasional users to navigate around the tool easily. This enables all users to access a common cartographic reference table with data centralized and updated weekly.
The Belgian National Lottery is developing a true sales intelligence system
Since the GEOCONCEPT system was implemented, the Belgian National Lottery is quickly stepping up a gear in its sales development strategy. A fully-fledged integrated decision support tool, the Geoconcept GIS enables analyses to be fine-tuned to street level accuracy, resulting in a professionalisation of its various missions, namely:
- sales prospecting : a clear view of the customer base and an accurate calculation of its development potential makes it possible to devise a targeted prospecting strategy
- identifying retail outlet locations : the siting decision can be based on reliable analyses highlighting catchment area potential and the risk of cannibalization between retail outlets
- analyzing game and retail outlet performance : the network being very dynamic, it is important to monitor specific indicators to re-evaluate retail outlet performance and their impact on neighboring retail outlets at regular intervals.
«Users appreciate this tool's performance (and the accuracy of the integrated data), customized to how they use it, be it consulting maps on PC or tablet, performing thematic analyses or publishing clear reports. Geo-marketing is very helpful to us in our decision-making process»
Pierre Christopanos, Geomarketing Adviser.
The Geoconcept solution has also enabled the National Lottery to establish itself in a new market segment in 2013: sports betting. Newsagents being the only businesses allowed under Belgian law to carry on this activity, the National Lottery has managed to establish a Belgium-wide grid for this new game enabling it to prospect efficiently for potential newsagent affiliates.

The development prospects don't stop there. In addition to the forthcoming integration of information calculated by the geo-marketing cell within a comprehensive CRM, the Belgian National Lottery has also added the Geoconcept Territory Manager module to the existing solution so as to optimize sales sectoring by fairly distributing sales territories as a function of their development potential while also creating new sectors.