CARGLASS® is piloting the development of its network and optimizing the movements of its workshop vehicles with GEOCONCEPT
As part of its growth in France, CARGLASS® has chosen to use Geoconcept solutions to consolidate its network of integrated centre's and improve the efficiency of its technicians' callouts on the ground.
CARGLASS® key metrics:
Established in 1986
French no. 1 for the replacement and repair of vehicle glass
Covers the whole of France
3 types of product: windscreen, repair, emergency product
450,000 home fitting callouts
3,000 staff including more than 1000 glass technicians
More than 350 integrated centers and 720 workshop vehicles in France
More than 1 million customers a year
75 openings planned for 2015, more than 50 of them in partnership with TOTAL
The development challenges of the CARGLASS® network: more services and greater proximity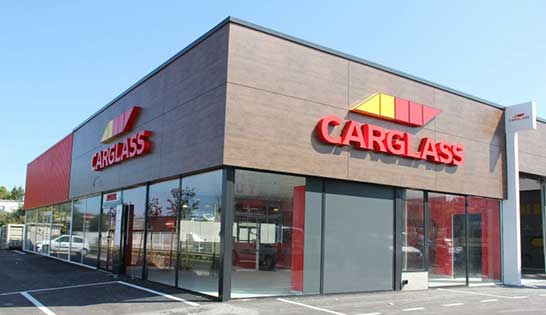 With more than 25 years of experience of the vehicle glass replacement and repair market, CARGLASS® aspires to offer its customers impeccable quality service by offering them more services, greater flexibility and greater proximity. This ambition translates into a very dynamic network development strategy, including diversifying and increasing the number of its centers to provide the best possible response to motorists' needs (CARGLASS® centers, neighborhood centers, mobile workshops, CARGLASS®/TOTAL centers, etc.).

To support this development strategy, in 2005 CARGLASS® decided to turn to GEOCONCEPT and deploy the Geoconcept Sales & Marketing Geomarketing solution, together with the Geoconcept Universal Geocoder Geocoding solution. These decision-support tools have made it possible to conduct location studies and optimize the sales sectoring of its 350 integrated centers.
"Over the years, GEOCONCEPT has helped us to perfect our Geomarketing strategy thanks to the performance, intuitive use and flexibility of the solutions on offer. The geographical approach enables a significant enhancement of the analysis of market data, thus making it possible to take strategic decisions on the development of our network of sales outlets"
Christophe Viala, Competition & Development Manager at CARGLASS®.
From Geocoding to reporting via thematic or spatial analyses, Geoconcept solutions make it easy to view the key information on the CARGLASS® network for a better understanding of the market, the competition and improved communication, whether at national or local level. CARGLASS® can thereby measure and compare the performance of the various existing centers, then identify and prioritize new site opening areas to strengthen its territorial grid.
CARGLASS® Mobility challenge: optimizing the workshop vehicle routes.
Still with the goal of improving customer service quality but also with a view to making everyday life easier for its mobile technicians and improving their productivity, in 2013 CARGLASS® decided to launch a number of pilot projects (in various centers in the north of France) using GEOCONCEPT's Opti-Time Geoscheduling scheduling optimization solution.

The Opti-Time Geoscheduling solution makes it possible to organize the movements of CARGLASS® workshop vehicles while taking account of team availability, technical constraints and the customer's whereabouts. Technicians on the ground benefit from automated and simplified management of pre-planned appointments and new incidents in real time (in an emergency, for example). This improves the efficiency of the appointment making process with the customer and optimizes movements on the ground.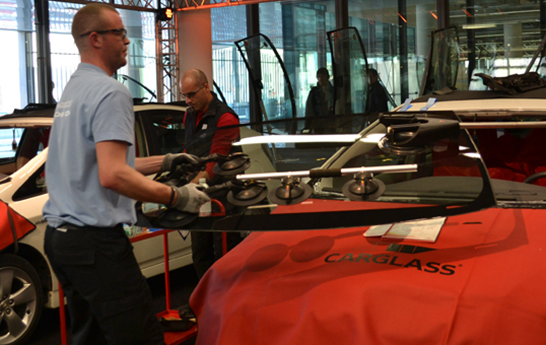 "Apart from the quality of the relationship with GEOCONCEPT, we were particularly won over by the performance demonstrated during the pilot projects, as well as by the flexibility and ergonomics of the solution. Opti-Time Geoscheduling gives us a schedule management system that is perfectly optimized for and tailored to our constraints, such as the availability of our teams or else the type of vehicle required for each callout" explained Jean-Paul Morard, Mobile Fitting Development Manager at CARGLASS®.
In the course of the pilot project involving the use of Opti-Time Geoscheduling, CARGLASS® reduced its technicians' journey time by around 10% and saw an approximately 2 minute improvement per callout. Buoyed by this success, CARGLASS® has decided to roll out the scheduling optimization tool to its entire network.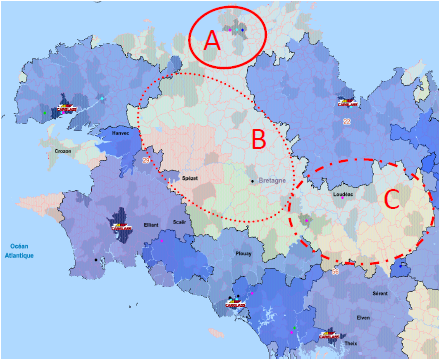 Defining the best settling areas
The GEOCONCEPT solutions deployed by CARGLASS®:
Geomarketing solution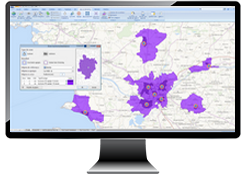 Geoconcept Sales & Marketing brings together all the necessary components to manage corporate geographical and marketing information: site selection studies, targeting, districting, reports...
Desktop and web geocoding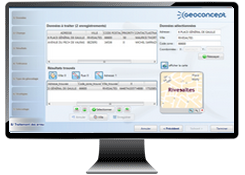 Batch geocoding software for millions of addresses, reverse geocoding, international geocoding.
Mobile forces scheduling solution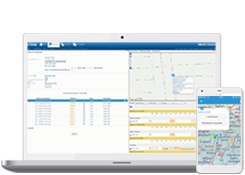 Opti-Time is a geo-optimization and scheduling software suite which manages appointment, customer service and delivery schedules.